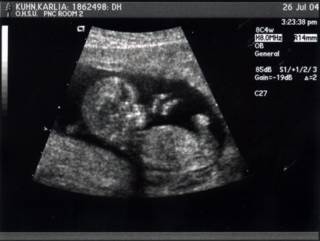 12 weeks (3 months), measured at 5.9 centimeters--Doppler picked up the heartbeat right away, timing the heartbeat at 150 beats per minute, but the ultrasound timed the heartbeat at 167 beats per minute. Based on the baby's length, the ultrasound determined I am 12 weeks, 3 days, but by my records, I am 12 weeks, 0 days today. Regardless, my data, and the ultrasound's data are within a close range of 3 days difference.
Everything looks normal, but we'll get the test results within a few days.
The baby hardly stopped moving for a second during the ultrasound. We were able to watch for over an hour. We saw its little arms moving around, and its perfectly formed feet were kicking constantly.